A new strategy to maximise asset value
Groupama Immobilier's new real estate strategy focuses on the end-to-end supervision of projects to redevelop and restructure flagship sites under its management. Our internal teams specialized in major projects and asset management possess the key skills to handle large-scale office and retail projects, and team up with the best specialists available.
Efficient projects over time
Going beyond environmental requirements, we co-design and manage projects to integrate them in the long-term evolution of the existing neighbourhood and the budding urban areas they are located in. We always seek to build sites that will remain attractive and efficient over time, and not just for their first users.
Our project pipeline aims to design the most relevant product and anticipate environmental, technological and regulatory developments. The ensuing offering must meet the requirements of new occupants.
Masters of value generation
These renovated assets, built in attractive locations, rented to committed users for long periods, offer secure cash-flows and exceptional financial performance, in a general context of extremely low rates of return.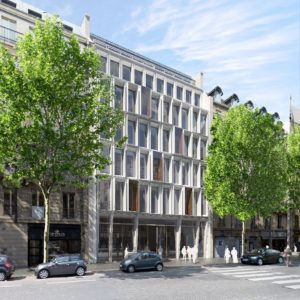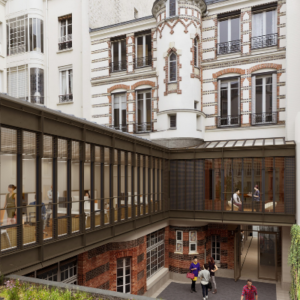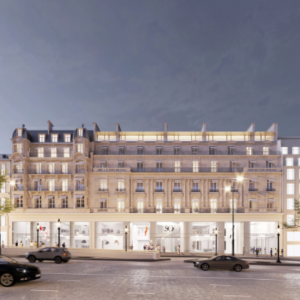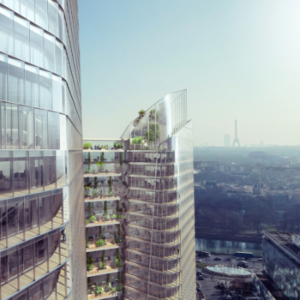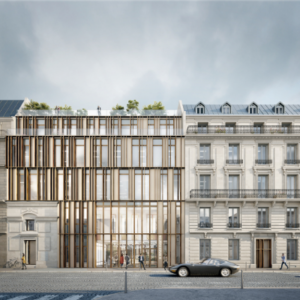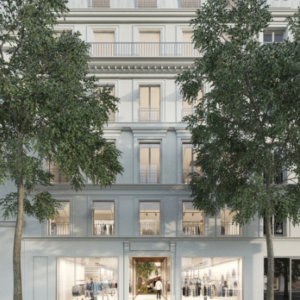 Eureka - 21 boulevard Malesherbes - Paris 8
"An ambitious restructuring project within a haven of greenery"
21 boulevard Malesherbes was occupied until July 2017 by Groupama Immobilier and other Groupama Group subsidiaries. With the preparatory work completed, Bouygues Ile-de-France Rénovation Privée was appointed to carry out this complete restructuring project designed by architects DTACC.
When it is delivered at the end of 2019, the building will be emblematic for its bold architecture, new facades and the creation of 1,400m² (15,000 sq. feet) of accessible terraces and balconies overlooking a secluded garden inside the block. The building will offer 6,545 m² (70,000 sq. feet) of prime office space in the heart of Paris's downtown business district (quartier central des affaires or QCA).
True to its commitment to environmental responsibility, Groupama Immobilier is aiming for a threefold certification: HQE sustainable building level Excellent, Breeam Very Good, and Well.
Find an article about the Eureka project in the AA Projects collection – L'Architecture d'Aujourd'hui – which aims at highlighting DTACC's unique architectural achievements and approaches.
Highlights :
A strategic location at the heart of the QCA
A new façade that gives the building a distinctive character
Rational, efficient office spaces designed with high-end fixtures and furnishings
1,400m² (15,000 sq. feet) of accessible balconies and terraces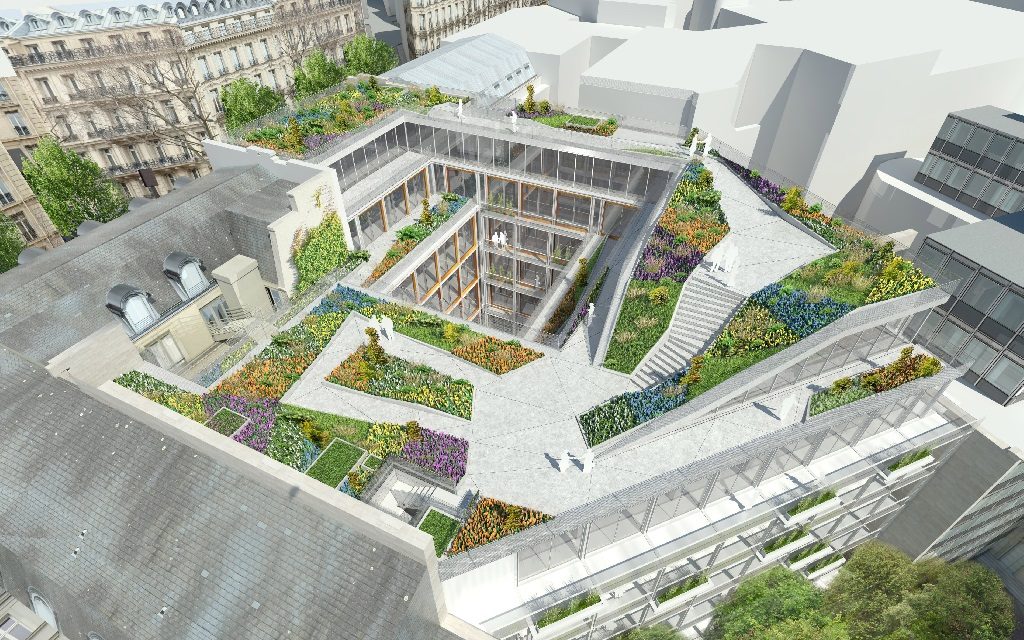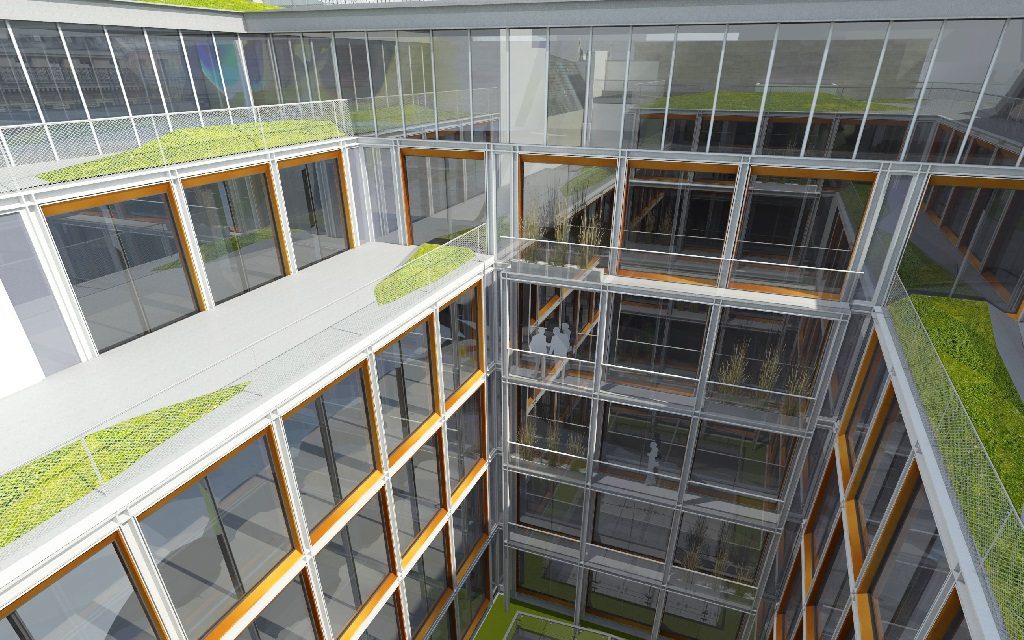 89 avenue Niel – Paris 17
Located in the Plaine Monceau district, this neo-Renaissance mansion was built in the 19th century.
Ideally located for public transportation (120 meters from the Pereire station). It offers on the Avenue Niel, a typical stone facade of the late 19th century, with a surface area of 757 sqm, the building is spread over four levels and a basement.
The building is currently being restructured. The project is based on the idea of improving the functionality and readability of the building while preserving the heritage character of the original mansion.
In keeping with its environmental commitment, Groupama Immobilier is aiming for environmental certification: HQE Sustainable Building at the High Performance level according to Certivea's 2016 v3.0 standard.
Highlights :
Ideally located and close to public transportation
A functional and efficient office building,
A new offer of technical services and services in line with the latest standards and user demands,
Environmental performance in line with market standards.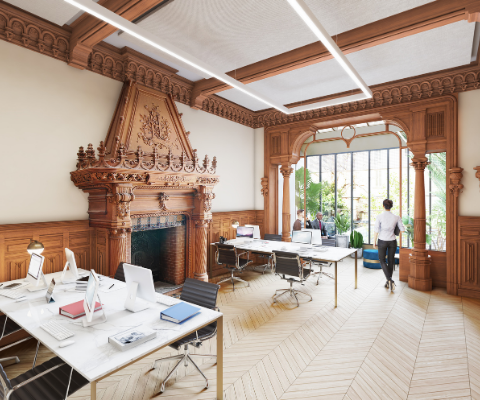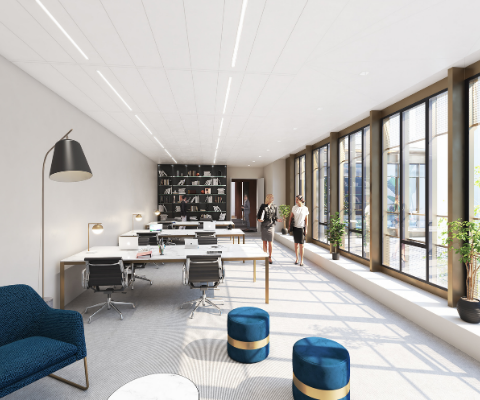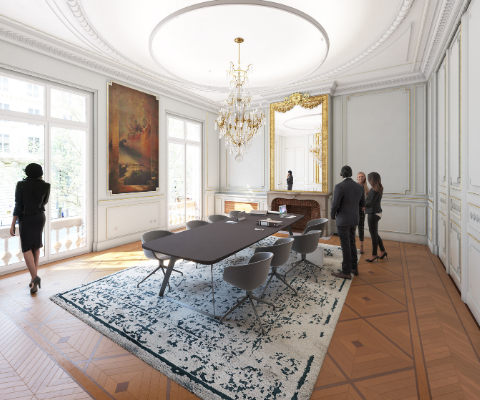 150 avenue des Champs Elysées - Paris 8
150 Champs-Elysées: the most ambitious refurbishment on the Champs-Elysées
Right next to the Arc de Triomphe, the 150 Champs-Elysées free-standing building benefits from a unique location, with tremendous potential for upgrading. This emblematic building of more than 20,000 m² (215,000 ft2) offers exceptional visibility and architecture – where Haussmann meets Art Deco.
The project includes the creation of a luxury 100-room, 5-star hotel, with 17 suites, a bar, a restaurant, an inner courtyard and two rooftop terraces. A 25-metre outdoor pool on the roof gives this remarkable and unique asset a signature feature.
Through this refurbishment, Groupama Immobilier will create 5,000 m² (54,000 ft2) of shops, including a 3,000 m² (21,000 ft2) flagship store. The spacious shops will offer rationalised layouts and optimised journeys for both customers and supplies.
Finally, a next-generation cinema, high-tech and super-comfortable, will see the light of day and offer moviegoers a revisited cinematic experience.
Building 150 Champs-Elysées will be delivered shortly before the 2024 Olympic Games.
Groupama Immobilier believes in the tremendous appeal of the Champs-Elysées: in recent months, major international retailers have announced the opening or expansion of their stores here. We observe that a general awareness has emerged regarding the need to make the most of this avenue's heritage, to make it a modern and innovative showcase of French savoir-vivre on an international scale.
Highlights :
A prestigious address of international renown
A large-scale and ambitious mixed operation: hotel, shops, cinema
A deliberately innovative project
An area classified as an international tourist zone
High-end brands
Huge (and increasing) footfall
A few steps from one of the symbols of Paris: the Arc de Triomphe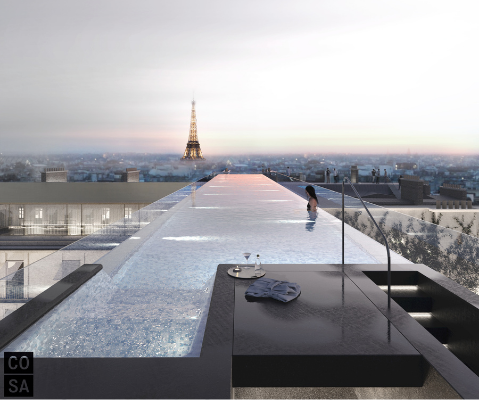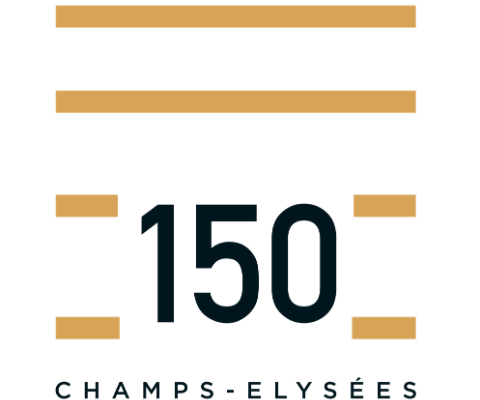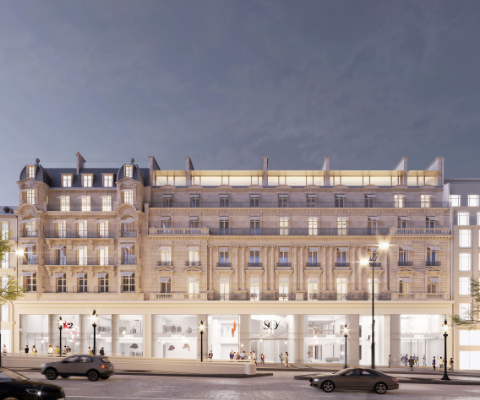 The Link – La Défense
The new gateway to the La Défense business district
The Link is an innovative tower project of unprecedented dimensions and visibility, tailor-made with agency PCA Stream for its future user: French oil & gas giant Total. 130,000 m² in two wings linked by 17 walkways, which will welcome 8,000 Total employees in Europe's largest business district.
The Link will include 6,000 m2 of open-plan duplex offices that can accommodate up to 500 employees: a floor area that is unparalleled in La Défense. Sections can be converted into closed offices or coworking spaces, designed to stimulate collective intelligence and respect individual needs.
The tower is fully focused on users' needs and expectations. It will include a sports centre, winter gardens and a roof-top garden, restaurants and VIP areas. These living spaces are designed to create connections between employees.
Environmental concerns are central to The Link's design. The footbridges are as many suspended gardens and the façade epitomises the transition towards a more eco-conscious energy mix. The building will meet the highest standards in terms of environmental labelling and certification.
Highlights :
Located in Europe's largest business district
Two fully glazed wings providing exceptional natural light
The garden-footbridges that serve as village squares
Horizontality to promote communication between employees
Exceptional quality of life and use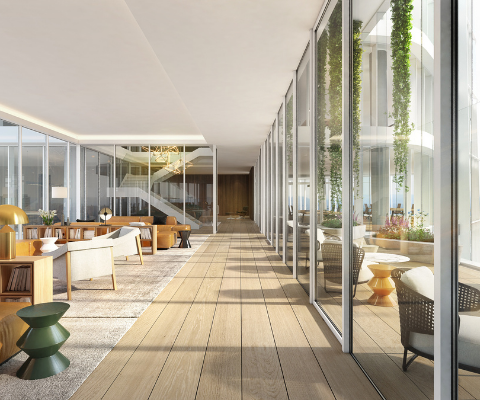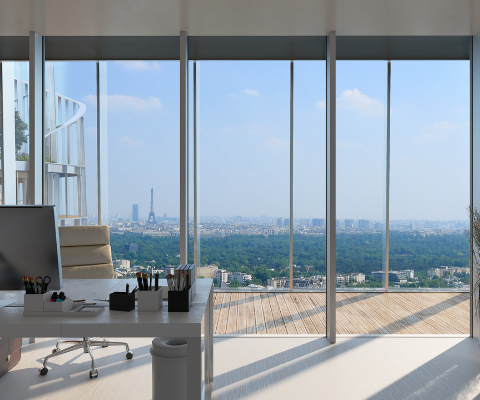 Ulteam – 18-20 rue Washington – Paris 8th
Collective makes creative
Reinventing working methods, anticipating companies' needs, promoting new ways of working that are agile and unconstrained.
To these major issues, ULTEAM is the answer.
Designed by ARTE CHARPENTIER architects, ULTEAM harmoniously combines cultural heritage and renewal on its versatile premises.
This 6,000 m² property complex, resulting from the combination of buildings from various periods, is built around an inner courtyard planted with trees, a townhouse dating back to 1820 and a listed garden.
In a decidedly contemporary style, the facades of the new buildings are made of full-height glass panels that surround and enhance the renovated old buildings.
A vertical mesh runs along the street front, the main courtyard and around the garden. An expression of the building's identity, this mesh creates unity between the various spaces and historical timeframes.
ULTEAM will offer workplaces to surpass oneself and recharge one's batteries: places to work, live and experience.
Here, connections are revisited, and collaboration reinvented.
ULTEAM meets the highest environmental standards (targeted certificates: HQE Very Efficient, BREAM RFO Very Good on the renovated part and BREAM 2016 Very Good on the new part, as well as the BIODIVERSITY label).
Handover is scheduled in the first quarter of 2022.
Highlights :
In the heart of Paris's central business district (QCA) and the "Triangle d'Or"
An architectural style that combines history and modernity with a strong identity
Redeveloped office space to make interaction seamless
Access to a private, listed garden and many landscaped terraces
Open, multifunctional, innovative and connected spaces: the "Cloud", an exceptional collaborative space on the (5th floor), a lounge, meeting rooms, an auditorium.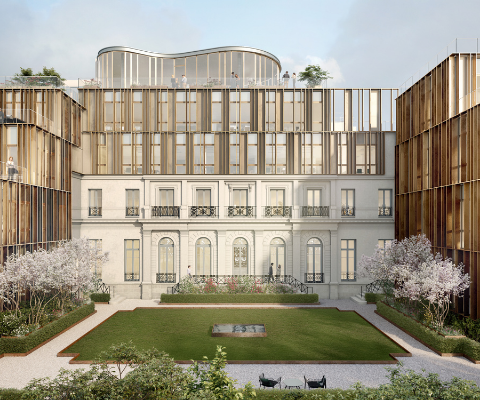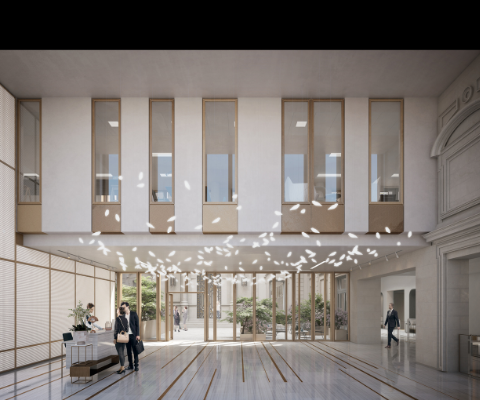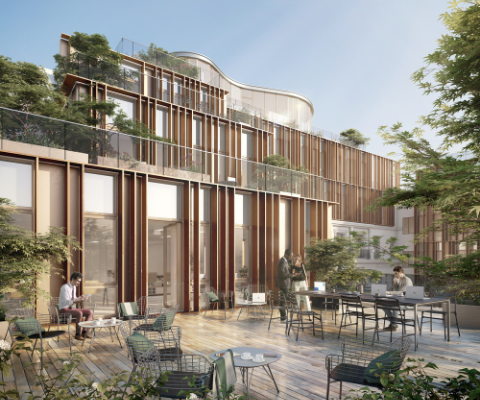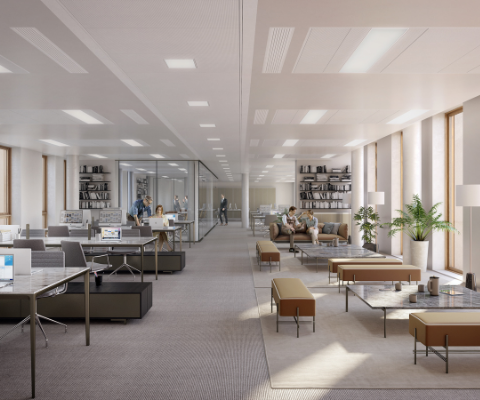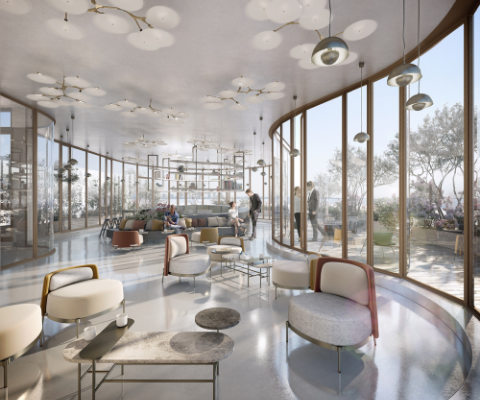 22 rue Royale - Paris 8th
In the immediate proximity of Rue Saint-Honoré and Place de la Madeleine, 22 Rue Royale is located in a popular district of the capital.
The project provides for a programme to enhance the value of the property complex, the main objectives of which are :
-The retail base
The business unit is developed behind extra-clear glass display cases that are free of any opening doors.
The historically coded porch invites visitors into a garden in the heart of the island.
The existing facade on the preserved street is complemented by a contemporary extension on the courtyard where a panoptic window on three levels bathes the sales areas in the basement in natural light.
The experiment then continues in the basement where the existing vaulted cellars are preserved and deepened by 2 meters, giving life to a monumental space with a 4.6-meters under ceiling.
-The office spaces
The programme offers four office floors in the upper levels. The offices have two entrances: one on the street, independent, used daily by employees and a second, at the back of the plot, accessible from the green courtyard, connected to a customer reception hall.
Highlights :
Develop an exceptional commercial product on rue Royale by creating a three-level commercial shell connected to the inner courtyard and visible from rue Royale.
Creating differentiated office spaces in the superstructure
Enhance the building's heritage legacy
Enhance the interior courtyard and the basement