A portfolio of prime, innovative offices to provide our clients the very best.
Highly attractive and functional Paris offices
Groupama Immobilier manages a portfolio of offices mainly located in the Paris Region and especially in the QCA (Quartier Central des Affaires – Central Business District). These offices, constantly renovated or redesigned, are spaces with strong identities, in prime locations.
Central Paris – One of Europe's top business real estate markets
Downtown Paris, with its central business district, and the immediate suburbs are a leading European market for commercial real estate and one of the world's greatest business centres. The market's size, the dynamic players and the opportunities created by the Grand Paris project enable Groupama Immobilier, a powerful and integrated operator, to fully develop its expertise and offer its clients the very best properties and amenities.
Maximising client satisfaction
Thanks to steady investment, Groupama Immobilier maintains an offer of flexible, sustainable and energy-efficient premium buildings, along with many services. These efforts aim to maximise both the occupant's satisfaction and the investor's performance.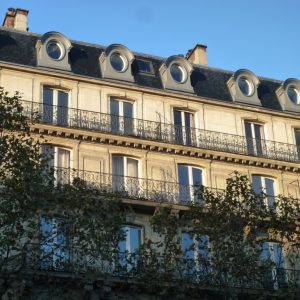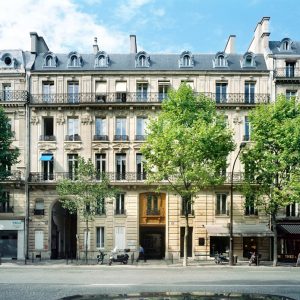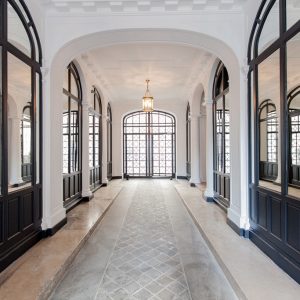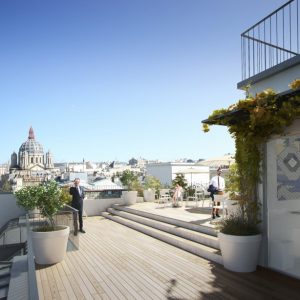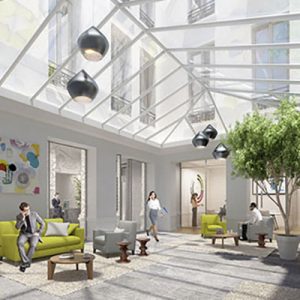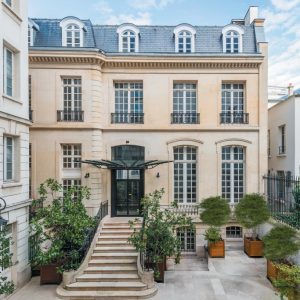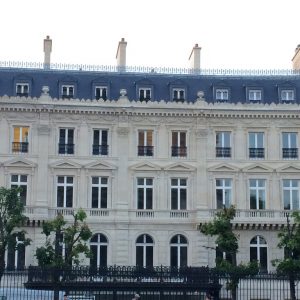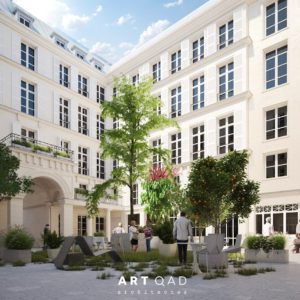 9 boulevard Malesherbes - Paris 8
"The Haussmann era luxury of exclusive districts"
The building located at 9 boulevard Malesherbes, offers a floor surface of 45,000 square feet and combines three types of uses: shops on the ground floor, offices from the first to the third floor and apartments on top floors.
The building benefits from a prestigious location and environment with excellent public transportation connections.
In line with the building's standing, the common areas have been completely renovated.
Highlights :
A building with a beautiful Haussmann façade
A good location in the central business district
Completely renovated apartments to meet the market's standards
Offices renovated in 2015, all rented out under long-term contracts and BREAM In-Use certified
148 boulevard Haussmann - Paris 8
"An exceptional building on a prestigious main street"
Located on the boulevard named after the world-famous Baron and urban planner, this 37,000-square foot property offers its occupants a privileged location with excellent public transportation connections on the La Défense/Etoile/Saint-Lazare axis.
The 148 boulevard Haussmann is composed of two buildings arranged around two inner courtyards: the first building on the street side includes offices, apartments and shops on the ground floor. The second is a mixed office & housing building. It is also arranged around an inner courtyard offering quiet premises.
The 148 boulevard Haussmann invites its users to enjoy offices spaces with nice reception rooms, decorated with parquet, mouldings and very high ceilings, as well as recently renovated common areas.
Highlights :
A beautiful Haussmann building located in a prime office district
A property complex offering high-class common areas
Easy parking thanks to a public car park at the bottom of the building and parking spaces in the courtyard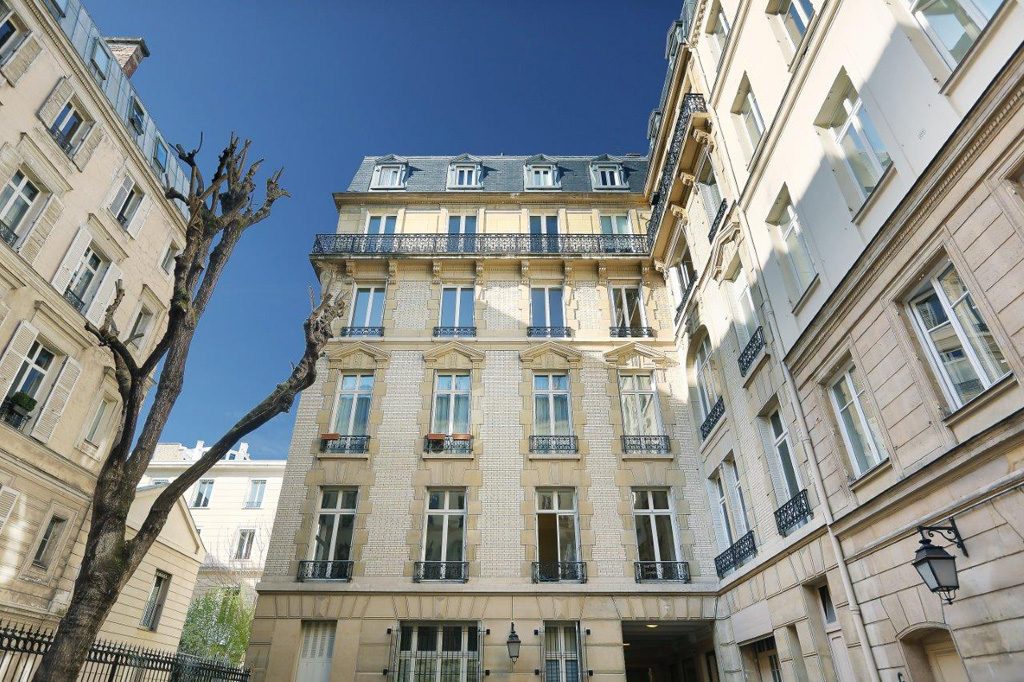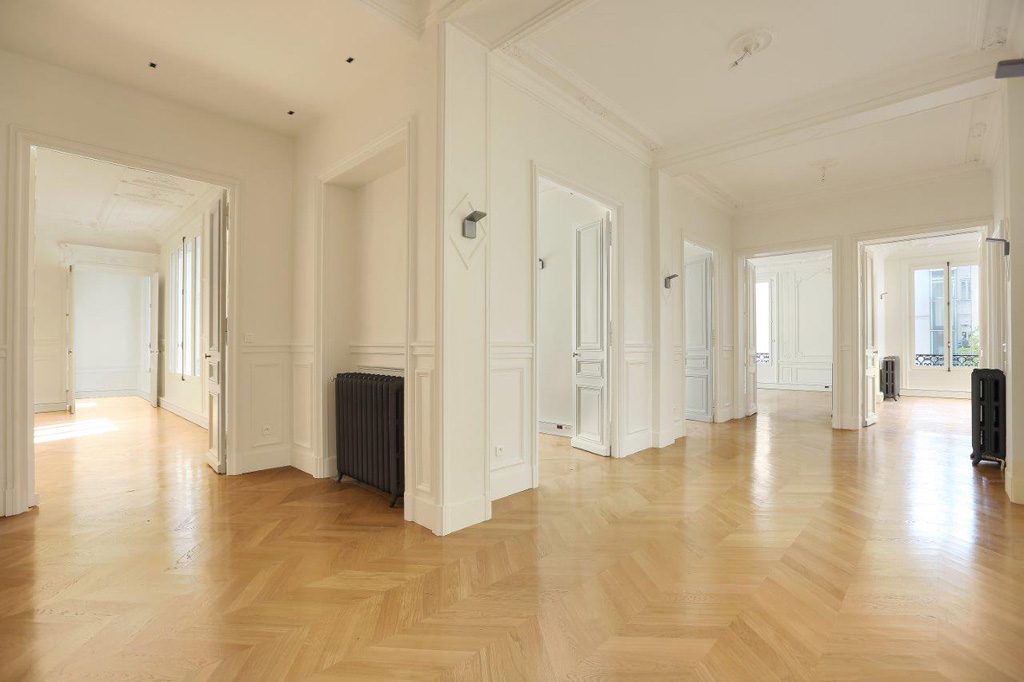 14 rue la Boétie - Paris 8
"A piece of Parisian history"
The 14 rue La Boétie is a beautiful four-storey Haussmann corner building located in the 8th arrondissement of Paris, close to the Place Saint-Augustin.
As soon as they enter, this 19,000-square foot building welcomes its visitors in an elegant atmosphere.
It offers a singular space, thanks to the remarkable alliance between the mouldings and frescoes in the rooms overlooking the rue La Boétie and the Art Deco stained-glass windows around the inner courtyard.
The 14 rue La Boétie gives a unique image to its lovingly renovated work spaces.
Highlights :
A building benefiting from a large inner courtyard and parking space
A double address: rue La Boétie and rue d'Argenson
Located in a bustling environment, close to shops and restaurants
A successful alliance between classical heritage elements and contemporary technical services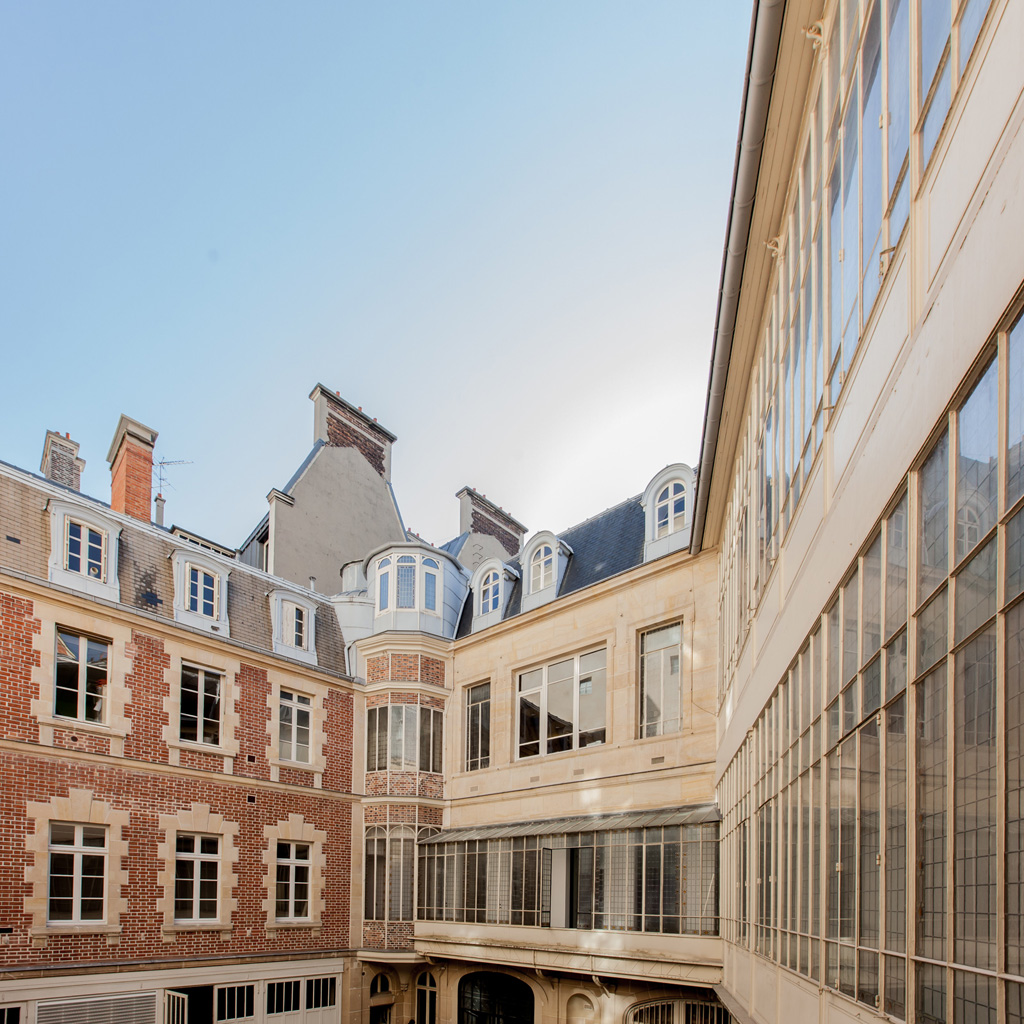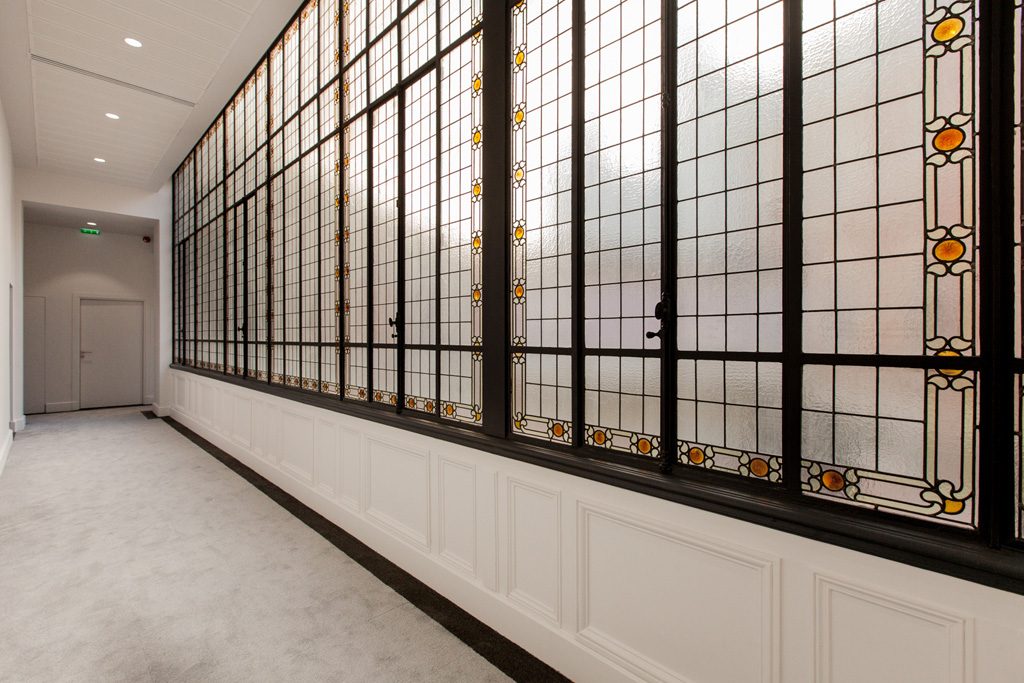 45 rue de La Bienfaisance - Paris 8
A prime location with an exceptional view
This prestigious address is just a stone's throw from Parc Monceau and Saint-Lazare train station.
The building, offering approximately 1,630 m² of office space, meets the requirements of a head office with completely refurbished premises. Its contemporary reception hall opens onto a green courtyard and areas for relaxation.
The building was fully renovated and handed over in late 2016.
In March 2017, Mirakl signed a binding six-year lease for the entire building.
The building reflects Groupama Immobilier's environmental policy: it received HQE certification to the Very Good level following the renovation works.
Highlights :
A modern façade, combining stone and glass surfaces, typical of the 1950s
Access to a terrace with a spectacular view of Paris's most beautiful monuments
Targeted certificate: HQE Rénovation to the Very Good level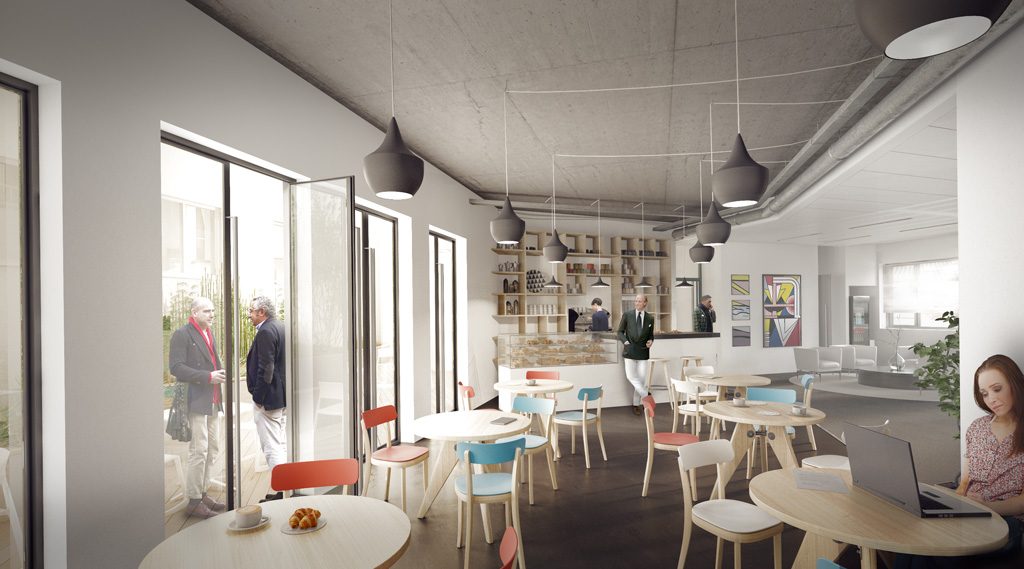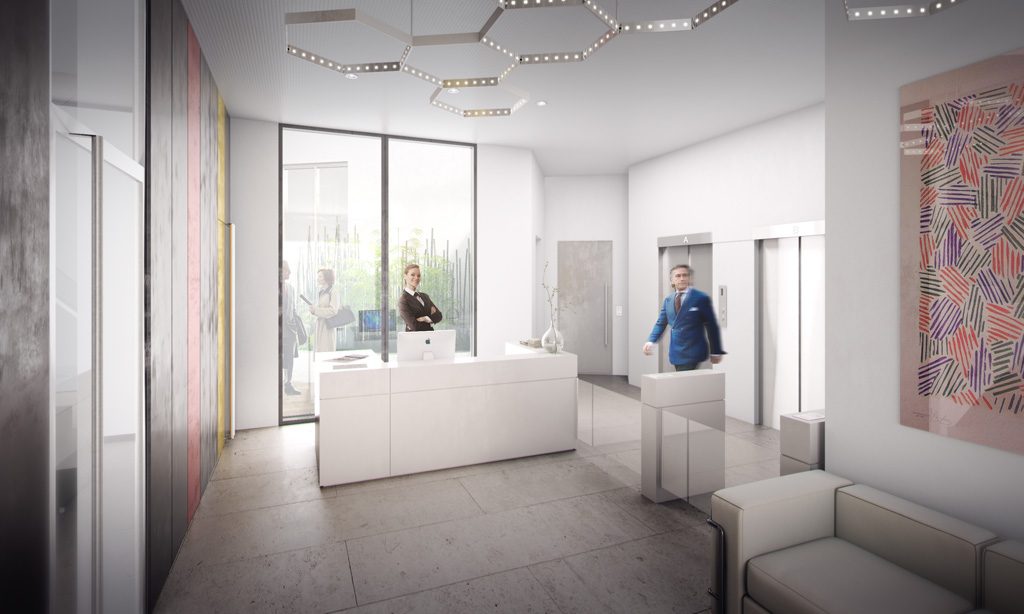 102 boulevard Malesherbes - Paris 17
Parisian art de vivre in the 17th arrondissement
This late 19th century "hôtel particulier" is located near Parc Monceau, in a kind of Parisian Notting Hill where many professionals (lawyers, notaries, strategy consultants, etc.) have their offices, not to mention the very high-end residential buildings.
The building was renovated by Hardel and LeBihan Architects.
With its remarkable façade mirroring other buildings, this 1,000 m² asset is three storeys high from the street level and has an interior courtyard converted into a winter garden under a monumental glass roof: a real living space for its occupants.
This renovation has naturally made it possible to combine the current requirements of modernity, accessibility and performance, while respecting the authenticity of a building with a strong identity.
The building was delivered in October 2016.
Highlights :
Outstanding surroundings, close to Parc Monceau
An inner courtyard designed as a meeting place, for sociability and team building
Modular and adaptable workspaces, with integrated technical performance
Certificate targeted: HQE Rénovation with an Excellent rating.
Fully rented under a long-term lease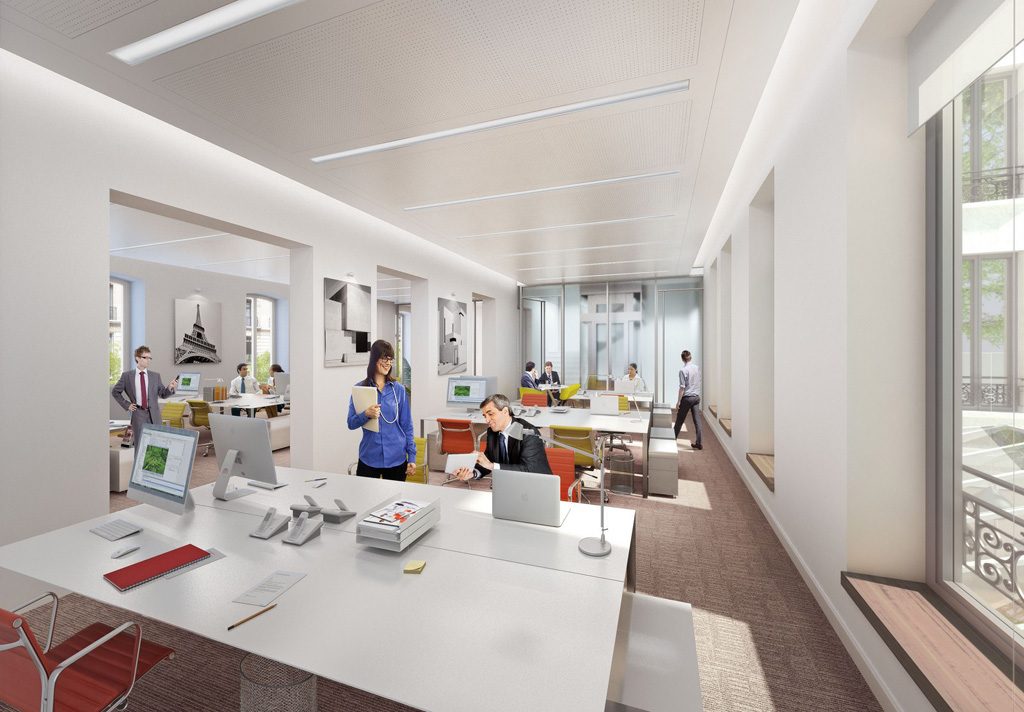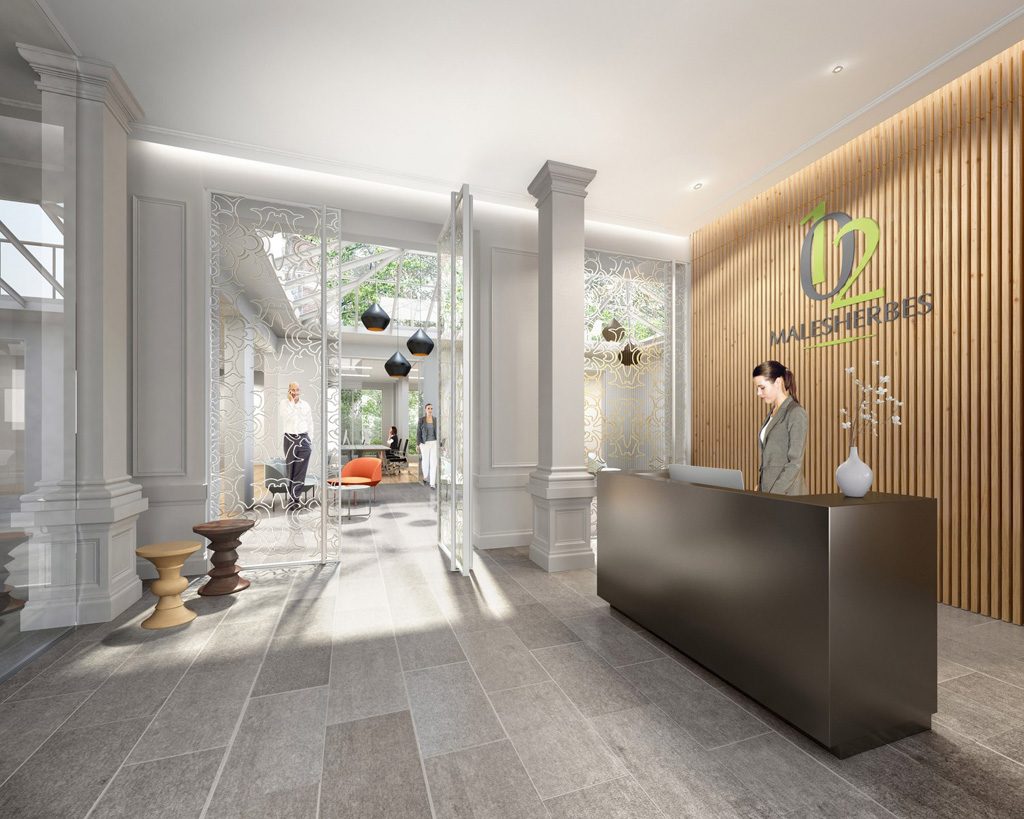 Hôtel Kléber - 10 rue Cimarosa - Paris 16
All the refinement of an exceptional "hôtel particulier"
Located a stone's throw from the Arc de Triomphe, this urban mansion built in the 19th century by the German de Ribon family benefits from an exceptional environment in the heart of Paris. It offers 667 m² of comfortable and functional offices.
We began renovating the Hôtel Kleber in 2016. Architecture firm Atelier Caubet designed the makeover, which was carried out by SRC, a subsidiary of VINCI Construction France.
In October 2016, Ile des Médias/ViaDirect signed a binding six-year lease for the whole building.
To ensure a healthy and efficient working environment, Hôtel Kléber is certified BREEAM in Use Very Good, in line with Groupama Immobilier's environmental policy.
Highlights :
A prime location at the heart of Paris
Flexible meeting and relaxation areas
A streamlined, contemporary design
Parking space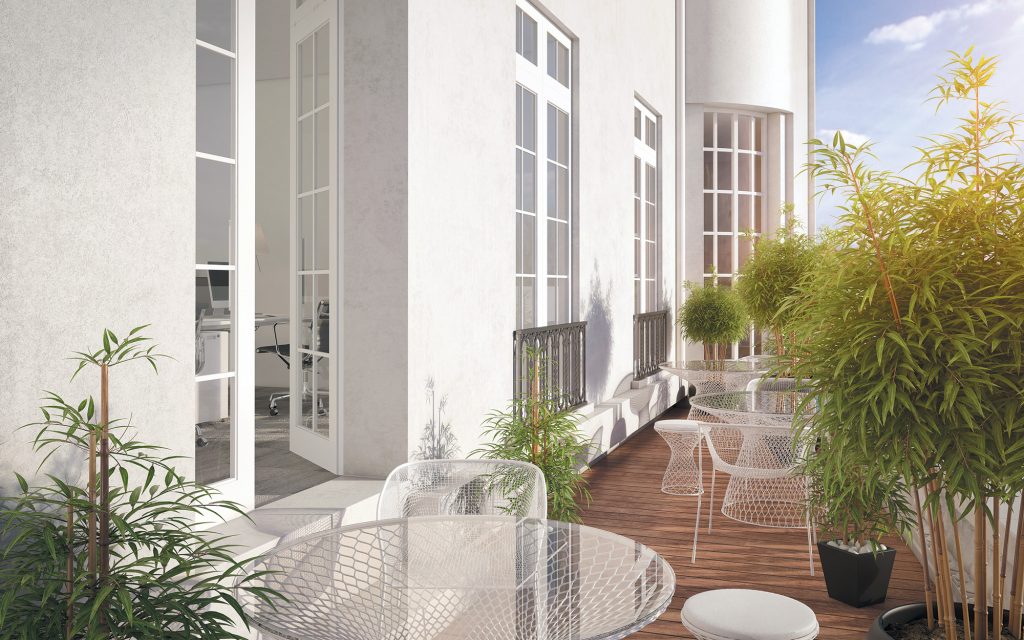 Hôtel de Günzburg - 7 rue Tilsitt - Paris 17
The Hôtel de Günzburg was built under Napoleon III in 1868, in the purest Haussmann style.  One of Paris' secret gems, it radiates the splendour of a wealthy Second Empire baron.  Some of its elements are listed as historic monuments.
It is one of the twelve "Hôtels des maréchaux" surrounding place Charles de Gaulle Etoile.
Between 2015 and 2018, Groupama Immobilier carried out an operation to enhance this exceptional cultural asset, with two ambitions: to heighten the architectural quality of this historic building and to improve the comfort its users.
The façades and roof were carefully renovated under the watchful eye of PERROT RICHARD, Architect in charge of Historic Monuments, for the purposes of asset development, aesthetics and the enhancement of our cultural heritage.
Contemporary works have been harmoniously integrated into the historic setting:
In the main courtyard, a monumental – yet ethereal – sculpture by artist Vincent Mauger evokes, in a highly stylized way, a 6.5-meter vegetable shape and catches the passer-by's attention with its 383 scales of aluminium and polished stainless steel. The sculpture highlights the place's exceptional character and gives it a strong identity.
In the hall, a metal reception counter drawn by the designer Métalobil serves as a counterpoint to the sculpture in the courtyard. It magnifies the period decor and its paintings, stuccoes and marble.
On the 1st floor and the garden level, we modernised the outstanding rooms while retaining their Second Empire splendour: the moulded ceilings were fully renovated, the decoration of the listed rooms preserved and that of the other rooms subtly toned down.
The architect designed and installed a signature staircase to connect the ground and first floors.
Today, the Hôtel de Günzburg meets the modern standards expected by the most demanding companies.
Spread over four floors and 3,300 m², it is now home to French pioneers in the fields of biological research, investment, luxury and consulting.
Highlights :
A building steeped in history
Excellent transport connections, with fast and easy access to all business districts and train stations
A building listed as a historic monument since 1983
A beautifully renovated façade; high-quality office space
An exceptional garden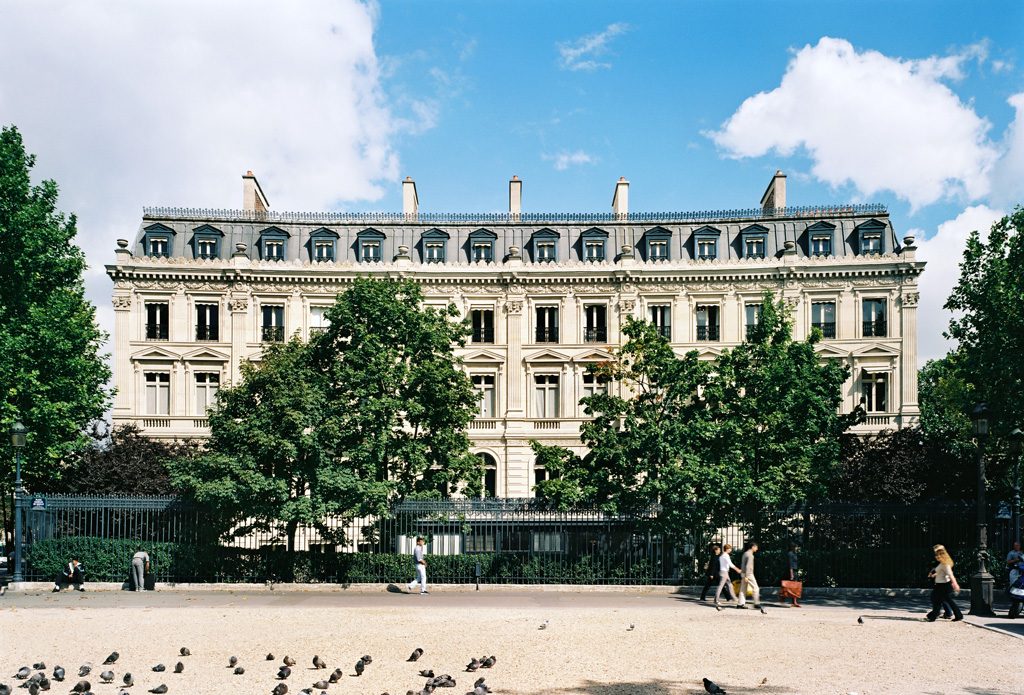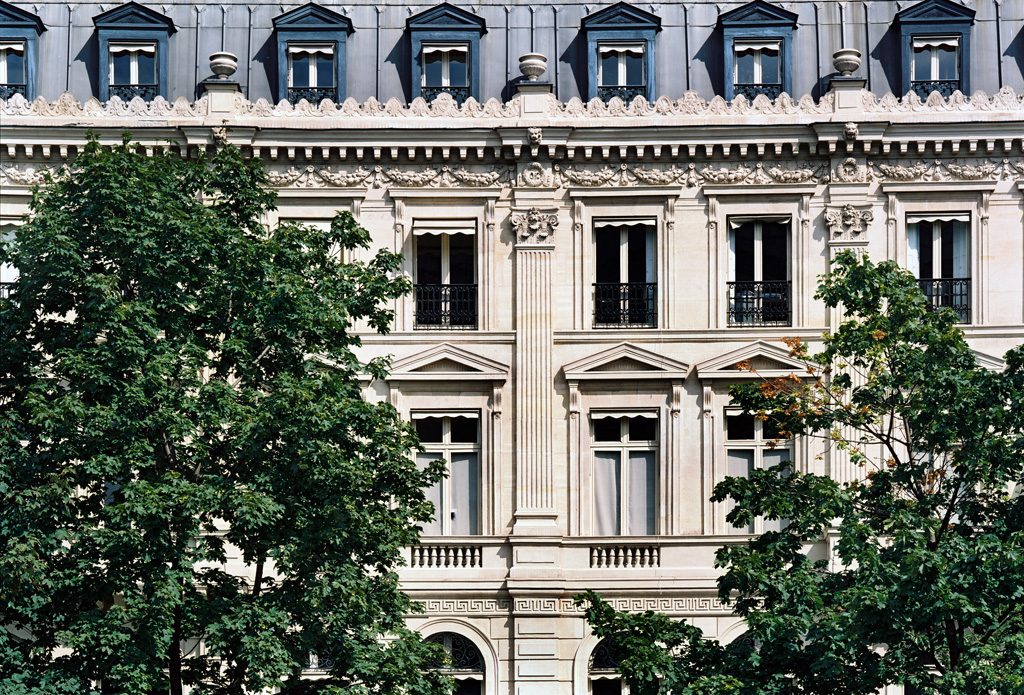 3 rue Rossini - Paris 9
"A splendid boutique-office enhanced by an ambitious refurbishment"
3 rue Rossini is located in the bustling antique dealers' neighbourhood around the Drouot auction house. This pre-Haussmann complex of more than 4,000 m² (43,000 sq. feet) is undergoing an ambitious transformation and restructuring programme, designed by architectural studio ArtQad.
The complex consists of a large and beautiful inner courtyard surrounded by two buildings. Standing five and three floors plus a mezzanine, they offer offices of variable sizes from 230 to over 430 m² (2,500 to 4,600+ sq. feet).
The architectural value of the site, with even facades, a porch, a gallery, mouldings, canopies… is enhanced by the improvement in comfort and rationality provided by the restructuring project. The site meets the requirements of contemporary working methods thanks to the diversity of internal layouts it allows, the complementarity between the buildings, the open connecting passages, the integration of services, etc.
The project's environmental ambition is rewarded by a BREEAM In Use certificate, level Very Good.
To be delivered in 2019, 3 rue Rossini is an emblematic project of the 9th arrondissement of Paris.
Highlights :
A central location, open onto a bustling urban environment with a diversified local economy: new technologies, banking, finance, consulting, etc.
A pre-Haussmann complex with distinctive architectural features
An ambitious restructuring project
Premium offices and a diversity of possible layouts
An entirely pedestrian inner courtyard of more than 300 m² (3,200 sq. feet)