Real estate development and value creation are in our DNA. This is very clear in the revitalisation and refurbishment projects we completed on the Groupama group's aging assets.
Each building undergoes a comprehensive upgrade. The architectural and internal design components are innovative in terms of facilities and services to occupants, environmental friendliness and durability. Naturally, our operations also focus on the potential for leasing and profitability.
Our trademark is the extreme care we take in the design & survey phase. We consider all scenarios of multiple and mixed uses, encourage ongoing and lively discussions between the various teams involved, and check – at every stage – the actual feasibility of the technical and urban transformations envisioned.
This is how Groupama Immobilier attracts the best employees, strengthens and preserves its expertise, and promotes everyone's skills and employability.
Every building is a unique. We consider each with a fresh eye, only requiring the project's stakeholders – architects, general contractors, decorators and asset managers – to apply the common denominators of user wellbeing and environmental responsibility.
Building on a strong and varied track record, Groupama Immobilier has a major pipeline of projects, which we carry out in the most sought-after locations of Paris and La Défense. Our employees and partners are very committed and highly competent in their fields – and we put the diversity of their skillsets to good use. This is the best guarantee for the continued success of our strategy: to create value.
Below are some of the redevelopments we carried out since 2013.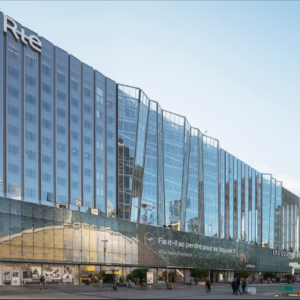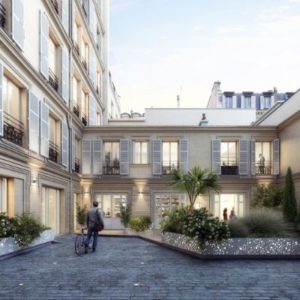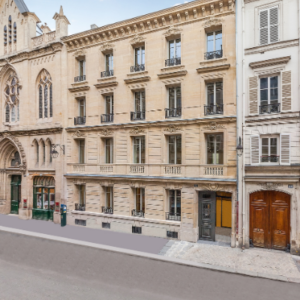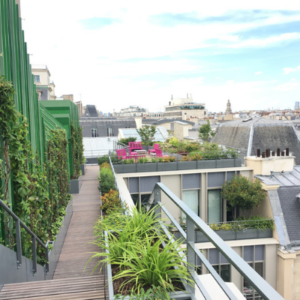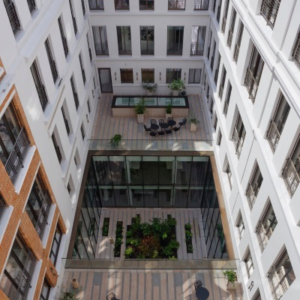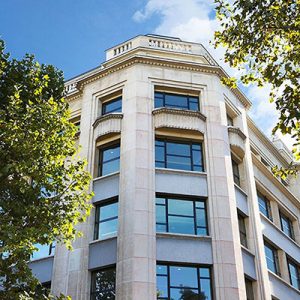 Window - La Défense
Window heralds the future of La Défense
This prestigious, 150-metre long horizontal building, located opposite the iconic CNIT shopping centre and just by the Grande Arche de La Défense, provides more than 44,000 m2 of flexible offices space, services and shops on seven floors, adapted to the lifestyles and professional habits of the new generation of professionals.
Its smart, highly functional and connected spaces meet the latest international standards (certificates targeted: HQE and BREEAM Excellent).
Window was developed with architects KPF (Kohn Pedersen Fox Associates), an American studio, and SRA, a French studio.
Delivered in October 2018, Window is entirely leased to the RTE power transmission grid for 12 years. It was sold to Oxford Properties Group at the end of 2018 at a record rate of 3.94%.
Highlights :
Located at the heart of Europe's leading business district
Directly connected to La Défense's transportation hub
A diversity of functions and occupants: work, services, catering, shops and leisure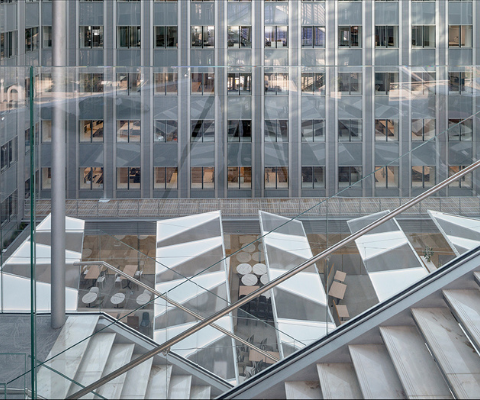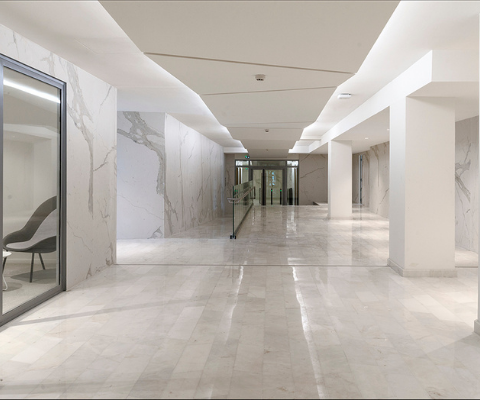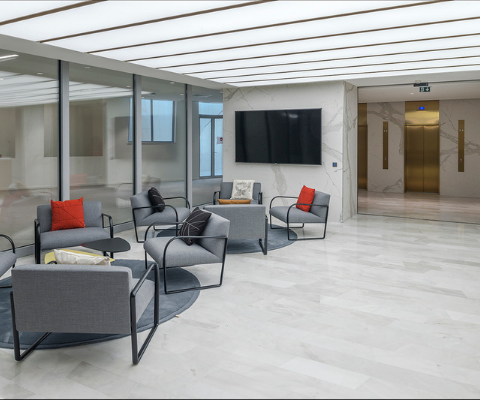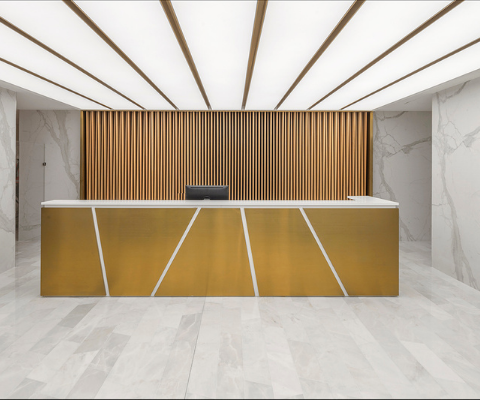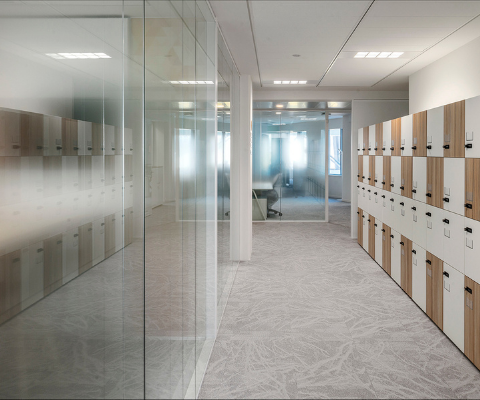 99 boulevard Malesherbes – Paris 8th
99 Malesherbes is a beautiful 2,500 sqm Haussmann-style building, nestled between the central business district and Parc Monceau. It has benefited from a high-end renovation in the common and private areas by the Balas company and has been completely redesigned by Architect Fanny Rozé to adapt to new lifestyles in order to reconcile family life and professional activity.
Three concepts have been created:
Work and joy with the office mansion, Work at home, which unveils 3 mixed-use apartments, and Welcome home featuring 12 high-end Haussmann-style apartments.
The Fanny Rozé Architecture agency imagined a show apartment as well as a project of three aesthetic lines for the three 250 sqm mixed-use apartments. These aesthetic lines, which adapt to changes in lifestyles and work methods, were named Cachemire, Romance and Confidence and were developed in virtual reality. Finally, Groupama Immobilier collaborated with several artists such as Thomas Lardeur and Stephen Whittaker.
Delivery of the mansion on May 28, 2021.
Highlights :
An asset located in the heart of the 8th arrondissement, near Parc Monceau.
A mixed-use Haussmann-style building with an elegantly decorated main facade.
An office mansion.
An office mansion fully renovated upscale Haussmann-style apartments.
Three mixed-use apartments including 50 sqm of retail space.
A show apartment designed by the Fanny Rozé Agency.
A building designed to adapt to new lifestyles.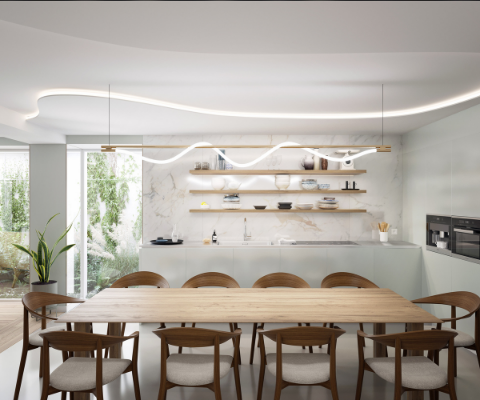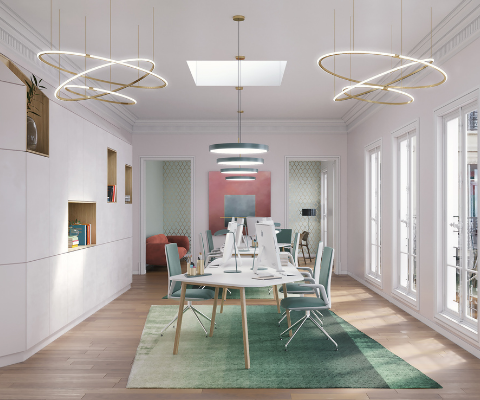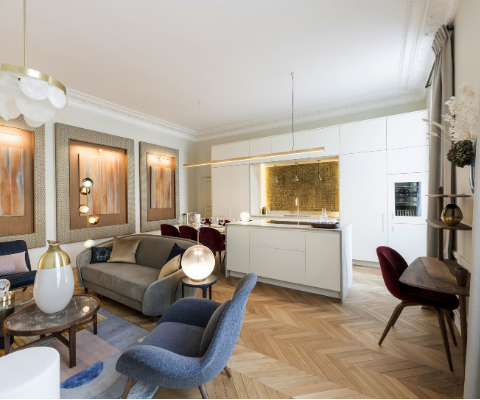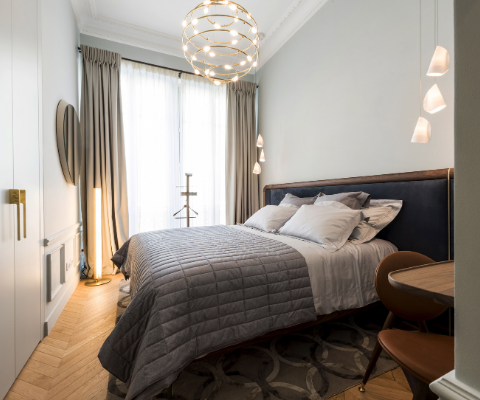 46 rue de Lille - Paris 7th
This "hôtel particulier" (exclusive Parisian townhouse) located at 46 rue de Lille, in the 7th arrondissement, underwent a full renovation in 2015, with help from architects Bouchaud.
Thanks to these works, the building regained its historic character while combining modernity and elegance. Particular attention was paid to the rehabilitation of the glass roofs and the original staircase, listed by heritage bureau Architectes des Bâtiments de France.
This exceptional asset for office use – with a surface area of approximately 1,000 m² – was delivered at the end of January 2016 and certified HQE Renovation to the Excellent level.
The renovation enabled us to attract a high-profile tenant specialised in interior design and luxury furniture manufacturing, operating in more than 25 countries around the world.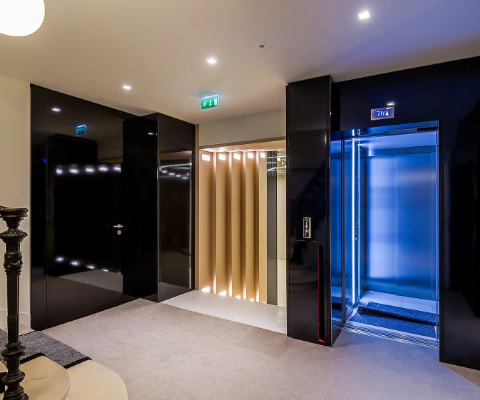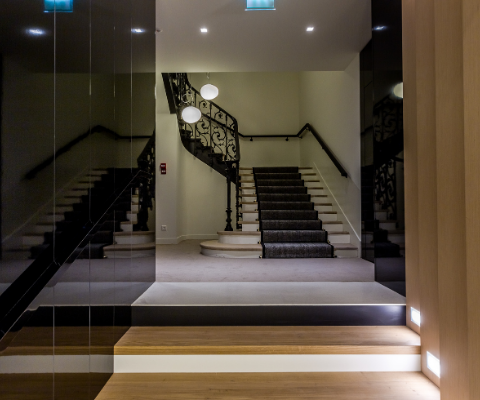 Factory - 3 rue Drouot / 4 rue Chauchat – Paris 9th
The Factory building is ideally located in the heart of the 9th arrondissement, near Opéra.
Groupama Immobilier relied on architects DTACC to carry out a premium refurbishment that would create – out of two obsolete adjoining buildings – a consistent and efficient complex.
This new 4,400 m² asset received two environmental certificates: HQE Excellent and BBC Effinergie Renovation. Factory has a rooftop terrace with a view of the Sacré Coeur, high-class office space and a large reception hall under a glass roof.
Fives Group chose this building as its head office in 2015. The tenant moved into the premises in April 2017, after 15 months of works carried out by Pradeau Morin under a general contracting contract.
Groupama Immobilier sold the building in September 2017.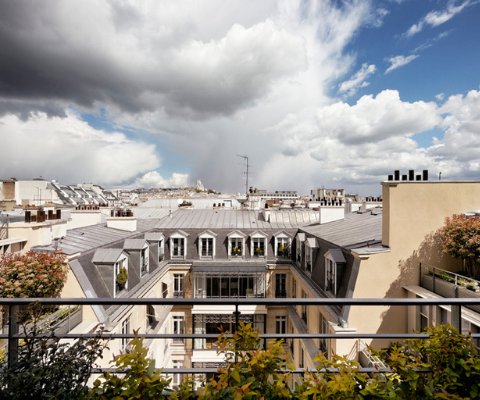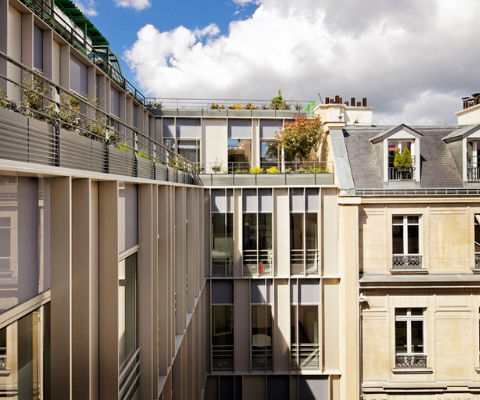 SoCo - 44/48 rue Saint-Lazare - Paris 9
"SoCo heralds a new way of working"
Located smack on Paris' largest transport hub, this Art Deco building offers 60,000 square feet of office space on seven floors.
Our ways of working have changed. We're on the move, hot-desking, co-working, always connected. We're in control of our time and in charge of our efficiency.
Designed by architects RDAI, SoCo is a frame of mind. It combines open spaces and more intimate surroundings. It fosters conversations, flexibility and movement.
Its ambition is to develop users' performance and to provide a strategic presence – where things happen and are decided.
SoCo meets the strictest environmental standards (targeted certificates: HQE "Excellent" and BREEAM RFO "Very Good").
"Home to Faber Novel's new head office since March 2019."
Highlights :
Next to downtown Paris' top transport hub
High-quality 1930's architecture
Completely redesigned base, open onto its surroundings
Prime offices with a contemporary design
New, accessible terraces.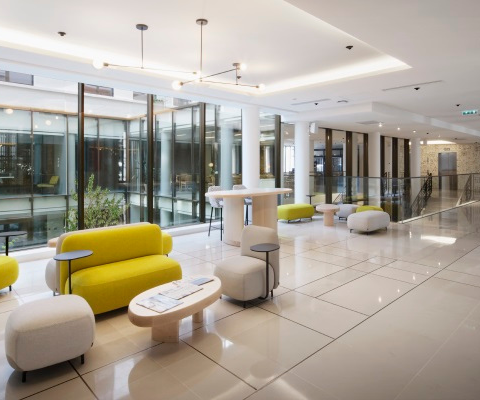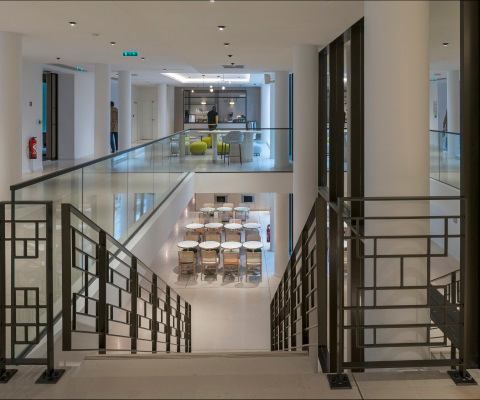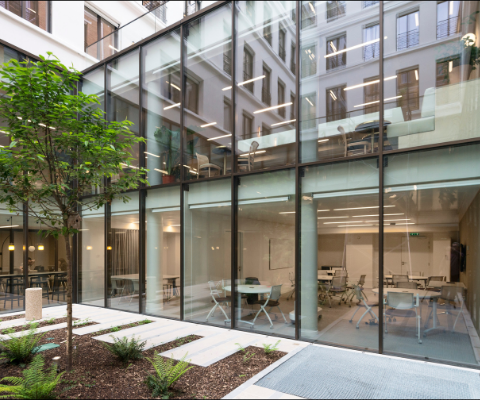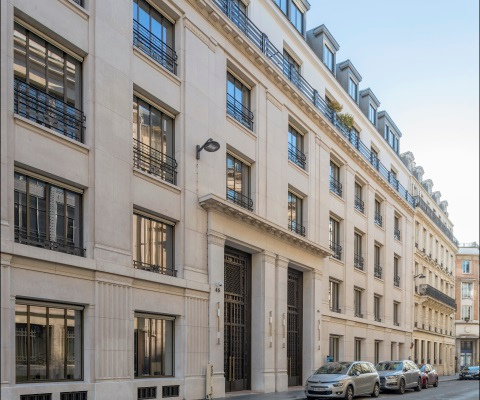 79 avenue des Champs-Elysées - Paris 8
"An entirely revisited object of our cultural heritage"
The building built in the 1930s benefits from a unique location in Paris's prestigious "Triangle d'Or". With a total surface area of nearly 11,000 m2 over 7 floors, it includes a large reception hall, a monumental (and listed) stone & wrought iron staircase, 6,800 m2 of retail space, more than 3,100 m2 of offices, as well as a rooftop terrace with 360° views over the Paris skyline and the city's top landmarks.
Groupama Immobilier, architects Valode & Pistre and general contractor Dumez, a subsidiary of Vinci, carried out an ambitious renovation of "le 79".
The architecture was magnified in the purest Art Deco style. It provides spacious premises for the future flagship store. The floors are open and bright, with access to outdoor green spaces on both sides, including overlooking the Avenue des Champs-Elysées. Movement between the various sections of the building is seamless, which encourages communication, collective intelligence and ultimately creativity and innovation.
At the end of 2019, Nike will open its third "House of innovation" here: a new concept of digital flagship store, after those in Shanghai and New York.
"Le 79" will also be home to Nike's new head office for France on the top floors of the building.
Last December, Groupama Immobilier signed a presale contract for this emblematic building to Norwegian sovereign fund Norges Bank.
Highlights :
A unique location on a strategic axis of Paris's "golden triangle"
Iconic architecture from the 30's
A spacious entrance hall with a staircase listed as a historical monument
Prime offices with a modern design
Future accessible terraces
Parking space