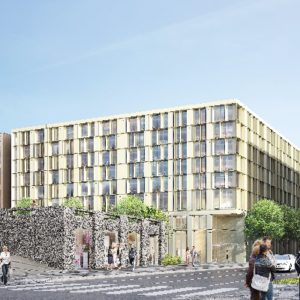 4 décembre 2017
REVEALING THE FUTURE GROUPAMA
Groupama will unveil today an outline of the future Groupama Campus, the first real campus in the La Défense business district of Paris. Groupama Campus aims to become the most accessible campus in the Grand Paris area.
Groupama brought together five entirely renovated and restructured buildings on the terraces of the Arche de la Défense, adjacent to Paris proper, covering a total surface area of 65,000 m² (700,000 square feet). It is France's second largest leasehold of 2017.
3,300 Groupama employees and eight Paris Region entities will be based here.
This real estate project combines three elements that are usually considered incompatible:
the characteristics of a real campus: five buildings, including a facilities and relaxation area, green spaces, pooled services, and seamless movement between the various sections.
great transport connections: directly on the RER A subway line and on the future E and 15 lines
a diversified urban environment: 500 companies, housing, 45,000 students, the new U Arena…
Groupama Campus is one of the symbols of La Défense's transformation: known chiefly for its skyscrapers, the business district will henceforth be thought of in terms of its campuses, horizontal and open onto their urban surroundings.
See the press kit on Groupama Campus and an interview with Laetitia GEORGE, Groupama Immobilier's Head of Commercial Asset Management, attached to this general presentation.
Download the interview with Laetitia GEORGE
Back to News