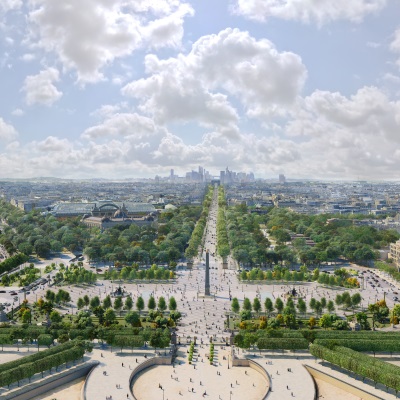 14 février 2020
EXHIBITION – CHAMPS-ELYSÉES: HISTORY AND PROSPECTS
On 13 February, the Pavilion de l'Arsenal architecture and urban planning museum in Paris inaugurated its latest exhibition, Champs-Elysées: History and Prospects. Adopting a novel format for civic participation, the exhibition was created at the instigation of the Comité Champs-Elysées, where Groupama Immobilier sits on the steering committee.
The mythical avenue has lost some of its splendour in the past decades – and Parisians have deserted its walkways and gardens. This is why the Comité appointed architect Philippe Chiambaretta and his agency PCA-STREAM to conduct a study with a view to Rekindle the Magic of the Champs-Elysées and test – in this collective territory of experimentation – principles for the development of a sustainable, appealing and inclusive city by 2030.
This transdisciplinary project involved some fifty experts – including artists, scientists, landscapers, engineers, historians, designers, entrepreneurs and Michelin-star chefs. Their concrete proposals and vision are exhibited at the Pavillon de l'Arsenal – 21 boulevard Morland – 75004 Paris from 14 February to 10 May 2020, free of charge.
Visitors to the exhibition are invited to participate in the project by voting for their favourite ideas and submitting their own. Online access to the consultation is also available on the citizen's platform make.org. The results will be made public in May 2020.
Do not hesitate to visit this exhibition of great public interest, designed be participative via the Make.org platform, and to take part in this consultation to build together the city of tomorrow.
Watch the 3D visualisation "Les Champs des possibles"
Back to News