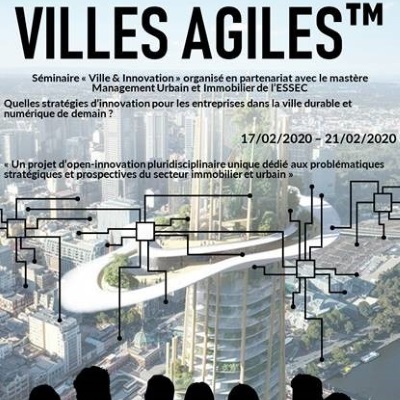 18 février 2020
AGILE CITIES: AN URBAN INNOVATION HACKATHON
Green Soluce, a real estate consultancy specialising in the sustainable cities of tomorrow, took a forward-looking approach to reflect on Villes AgilesTM (Agile Cities) during a week-long seminar organised in partnership with the ESSEC international business school, the ENSA-v school of architecture and the EIVP engineering school.
This hackathon experience brought together the complementary profiles of students from three prestigious schools, which made it particularly productive. Using an agile methodology, future managers, engineers and architects analysed and discussed the opportunities and challenges of tomorrow's cities. They had five days to develop forward-looking scenarios based on strategic transformation challenges suggested by five major players in the urban economy, including Groupama Immobilier. Their ideas on these challenges – which included entering new markets, transforming professions and business models, innovative approaches and partnerships for new products & services, etc. – had to take into account the underlying issues and trends of the urban transition over the next 20-30 years.
In interdisciplinary groups, the students:
acquired the basics of forward-looking approaches and agile methods
learnt more about the dynamics of urban change and how to anticipate them
identified levers of change and innovation opportunities for companies, to design strategic transformation scenarios and assess their impacts.
Groupama Immobilier, as a stakeholder in the event, was pleased to make premises at 150 avenue des Champs-Elysées available to the students, teachers and coaches for the Villes AgilesTM hackathon.
What better setting than an emblematic Haussmann-style building to spark ideas on the future of real estate and of the city's production?
Back to News