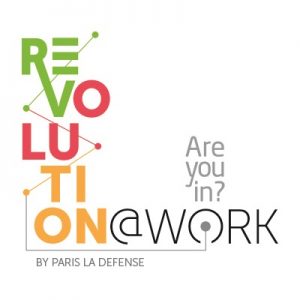 15 novembre 2017
GROUPAMA IMMOBILIER AT REVOLUTION@WORK
On 21 and 22 November 2017, Groupama Immobilier – as a committed and active founding partner of the event – will be at Revolution@Work.
Revolution@Work is an international platform dedicated to innovation in the working environment.
The two-day event, which will take place in the Cœur Défense skyscraper, in Paris' business district of La Défense, aims to accelerate the emergence of the work of tomorrow. It will bring together stakeholders from a variety of complementary universes (company managers, HR directors, real estate managers, innovators, CSR professionals, designers, researchers, architects, representatives of business districts, etc.) to discuss three topics: the individual, the company and the ecosystem.
The agenda includes plenary presentations with prospective visions, test & learn workshops, experience sharing, innovative animations. Plenty of room will be given to start-ups, which will compete in the second edition of an innovation contest.
Groupama Immobilier will be strongly represented:
Eric Donnet, our CEO, will talk at a plenary session on 21 November at 2:40 p.m. on The Issue of Leadership, or the Modern-Day Heroes.
Astrid Weill, Head of Development & Major Projects, will be interviewed on a TV set on Wednesday, 22 November at 11:30 a.m.
Valérie Genthial, Director of Residential Real Estate, will be a member of the jury reviewing start-ups in the wellbeing category, on Tuesday, 21 November at 12:30 p.m.
Jules Barul, Head of Technical Property Management, will sit on the jury of the start-up contest focused on digital technology, on Tuesday, 21 November at 2:30 p.m.
Anne Keusch, Head of Sustainable Development and Innovation, will moderate an innovation workshop on Tuesday, 21 November at 4:30 p.m. and will attend the awards ceremony on Wednesday, 22 November.
Join us to unlock and multiply communication opportunities, take part and contribute to this international programme dedicated to reinventing the working environment and building new horizons.
Sign up on the platform: https://www.revolutionatwork.com/register/
Back to News